If you're anything like me (and every 3rd person in the world!) you thoroughly enjoyed the royal wedding of Prince Harry and Meghan Markle the other week. It was truly a fairy tale and while Meghan proves a delightful breath of fresh air there's still the fact she's marrying into one of the most etiquette conscious families in the world.
That got me thinking about royal etiquette, which can be a totally different beast than everyday etiquette for us normal plebs. Obviously there's lots to be learnt from the royal family, however some rules tend to be outdated and unrealistic for modern life.
That's why today we'll go over 5 royal rules that are definitely worth embracing, but also 5 royal rules that are totally ok to ignore.
EMBRACE
1. Keep your knees together whilst sitting.
Although this may seem too antiquated in a world where men are forever man-spreading (also not proper etiquette) it's still a rule that creates an elegant as well as confident appearance for any woman.
Either keep your feet flat on the floor, knees and ankles together (you can keep them at a slant as Catherine does below) or cross your legs at the ankle if more comfortable. Typically it's frowned upon to cross your legs at the knees, (it can easily lead to poor posture not to mention revealing more skin) but we all know that it's the modern go-to sitting position. In that case follow Diana's lead (below) and if you do cross your legs at the knees still try to keep your ankles together.
2. Keep your chin parallel to the ground.
This is a trick to keep a balanced confident look. Tilt too low and you'll look unsure or anxious, tilt to high and you may come across a bit haughty or cold. By keeping your chin generally parallel to the ground you'll ensure you look confident and at the same time naturally improve your posture.
It's also important to remember whilst going up and down stairs. Of course you must look where you're going, but you should try to keep a level gaze and lightly use the railing to steady your ascent or decent.
3. No pinkies whilst drinking tea.
While pinkies waving in the air seem to be the go-to gesture for imitating posh or royal behavior it's actually seen as improper. If you want to look like a true royal hold your tea gently but firmly by the handle by bringing thumb and index finger together and using your third finger for support.  At all times your pinky should be kept discreetly tucked down and make no little wiggling appearances.
4.  No hats after 6 PM. 
You may not be donning fancy millinery on an average day, but if and when you do, following the rule of no hats after 6 PM is wise to follow. Traditionally royal women will swap their hats for tiaras when evening approaches. Although you may not be sporting a tiara it's still time to take off the hat or fascinator. It makes sense as hats are in a sense meant to protect from the sun and don't usually pair as well with evening attire.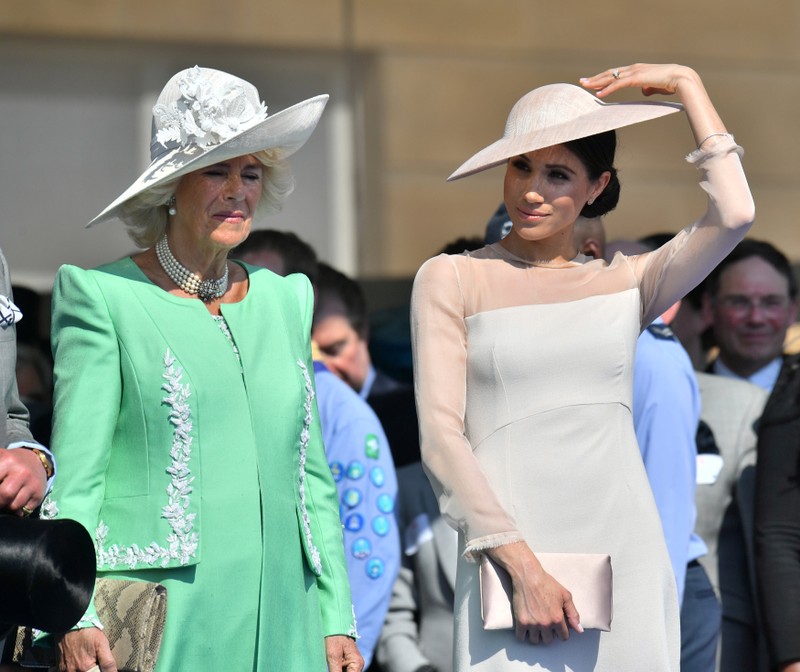 5. No denim on official/formal engagements.
This may be a bit on the controversial side as the world practically lives in denim now-a-days and as long as it's well-fitting and dressed up can be appropriate for many occasions, however…
I'm on the side of embracing the no denim rule for more formal occasions such as work functions or social events. There's only so many opportunities to dress up anymore so I say make the most of any opportunity. Not only will it make you stand out to others, even subconsciously, but it can lead to much more interesting style choices. It's easy to become lazy if we always resort to a pair of jean, no matter how flattering.
In a world obsessed with casual comfort I say go against the grain and opt for a stylish dress, skirt or dress pants. As someone famously stylish said (can't quite remember who!), "It's better to be overdressed than underdressed."
IGNORE
1.  Don't express political opinions.
As a member of the royal family you're not allowed to express any personal political opinions. Of course you can still focus on certain charities and causes close to your heart, but politics are off limits. For a non-royal this is a rule best ignored.
I'm not suggesting you bring up sensitive political views at delicate moments, but it is our responsibility as members of society to take notice and educate ourselves on politics. We may not agree with the views or even general current system, but at the very least we should be aware of how we feel and able to express our opinions and take a stance.
2. Stop eating when the Queen does.
In royal circles if you're dining with the Queen it's essential to stop eating when she does. While you may be thinking this occasion may never present itself a similar rule also applies to your date. The old rule says you shouldn't finish your meal before your date does and when he's finished then so are you.
As we've mentioned in a past lesson this rule is far outdated and your should feel free to eat at your own pace, although it's polite to keep a general awareness of how quickly or slowly others around you are eating. That being said, if you do happen to receive a dinner invite with the Queen, definitely don't ignore this rule! The Queen is the only exception..
3. Don't take off your coat in public.
You'll never notice Catherine removing her coat in public, even going so far as to keep her coat on during an indoor meeting if there's no opportunity to remove it in private. This is said to be because it appears "unladylike."
While this may be a rule for royals it's one we can safely ignore. In fact, it may even come across as inappropriate not to take off your coat in certain situations, for example when you're attending a party or dinner and there's no "private" place to remove your coat, you should still take it off.
4. Always opt for a clutch
The reasoning behind this rule makes sense. You'll notice the Queen, Catherine and other royal women most always opt for a clutch, or at most a compact top handle purse (a rule Meghan has already broken with her cross body bag). This not only lends for a slightly more polished look, but is practical in the fact that it helps avoid unwanted contact like handshakes by keeping your hands otherwise engaged. It's a royal way of refusing unsolicited touching while still appearing gracious.
While this may be practical for royals most women can easily ignore this rule (unless you happen to be a huge clutch fan!). Not only is the typical women not normally in situations that require active contact avoidance, but practically speaking a clutch only holds so much, we need more space! Although I'm not a fan of massively oversized bags, compact bags tend to look more polished, it's perfectly acceptable to carry a wide range of handbag styles.
5. No bare-legs.
Bare-legs are a big no-no for royal women. They're always expected to cover their legs with tights or sheer pantyhose. While this can certainly make for a cleaner, even flawless look it's not a must for most women. This rule becomes particularly acceptable to ignore in the warmer weather for comfort's sake and for pairing with open-toe shoes.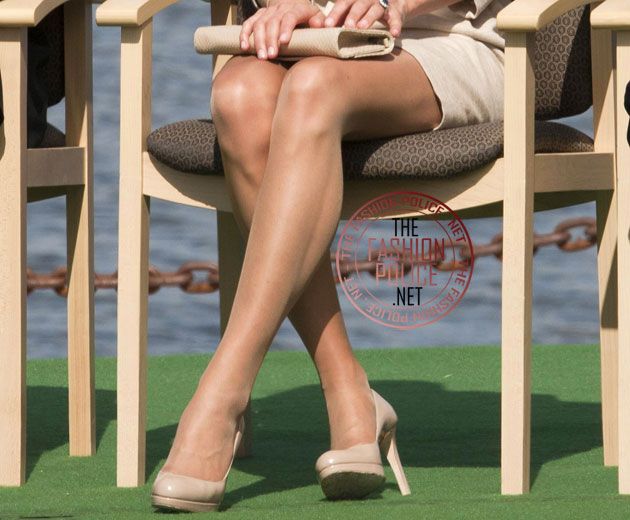 HOMEWORK: Do you have any other royal rules you think are worth embracing? Or ones you think are completely outdated and better left ignored? Please share in the comments below!


Photo Courtesy: glamour.com, dailyexpress.com