Follow these 17 tips to navigate fashion week with style and class.
Fashion shows are notorious for starting late but still try to show up on time or no more than 15 minutes after the designated time. Just like any other event or performance it's disrespectful to be horrendously late.
Don't complain about your seat. If you're not front row don't make a fuss. It makes your look childish and insecure.
Feel free to mingle before the show but look to see when others are taking their seats. You don't want to be one of the few holding things up.
Take your seat and don't take up the space besides you. Place your bag on your lap or if it's larger tuck it underneath the seat behind your legs.
If sitting in front of others remove your hat if it's obtrusively large.
Most shows will have a pamphlet on each seat describing the inspiration and details of the collection. Read it. You weren't invited to simply show off your pretty face and if you were at least feign your interest.
If sitting front row uncross your legs when the show begins; they have a habit of obstructing the runway view. Photographers hate this.
Really look at the collection. You can certainly take photos or videos to capture the moment but don't forget to fully take in what you're seeing. Remember the privilege of attending a show is to see the clothing up close and personal, to view the stitch work, fabric, embroidery and fit. Save the instagramming and social sharing for after the show (unless it's your job).
If and when taking photos be mindful of the people around you. You don't want to be constantly blocking someone's view.
Look perfectly polished. Proper manicure, groomed hair, and pristinely pressed clothes. Details matter!
Fashion week is the time to dress up and have fun. Consider proportions, color, fit, quality, will it photograph well? I don't recommend jeans unless they look ridiculously stylish. Although not necessary, if you happen to have a piece by the designer wear it to show support.
Wear appropriate clothing depending on the time of show. No evening gowns for a morning show.
Know who (designer, brand, vintage) you're wearing in case someone asks. This is a fashion crowd after all; people care about these things.
If you don't want to be photographed or interviewed politely decline by saying "I'm sorry I don't like being photographed/interviewed."
Fashion shows can be a lot of sucking up and faux air kissing. Be genuine with everyone you meet, whether a socialite, celebrity, designer, photographer, or the gentleman showing you to your seat. It's a prime opportunity to cement your character and build your reputation as a lady.
Don't gossip or make fun of someone's outfit. If it's just so outrageous you can't keep your mouth shut then at least be discreet. See more on how to gossip like a lady.
You can share your opinion about the collection but don't be mean spirited and certainly don't say anything negative on camera. That could guarantee an end to your invites.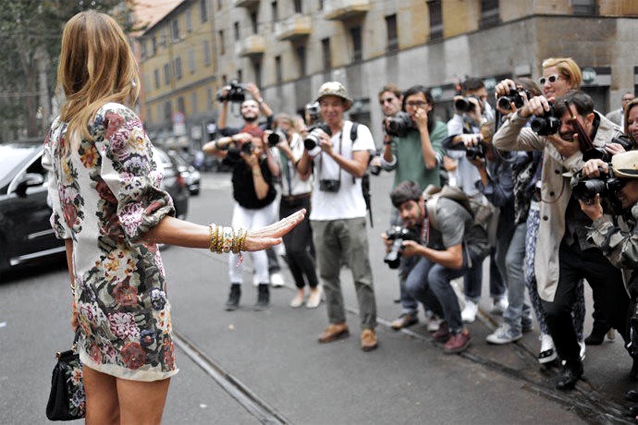 HOMEWORK: Look through some of the latest collections to get familiarized with designers you may like style.com/fashion-shows  While you're there take a peek at some front row photos to see what people are wearing. 


Photo Courtesy: glamour.com, donna.fanpage.it