One of the top questions I get asked is "What should I wear?" Knowing the appropriate outfit to wear can be stressful. Sometimes there's a defined dress code, but most times there's not. You don't want to be underdressed or overdressed. In any case you don't want to feel out of place. So in this lesson I'll give you a no-fail recipe for concocting the safest, yet still stylish outfit that can be worn for most any occasion.
Let's start with the base of the outfit, the dress.
Side note* I know some ladies are simply not into dresses, and that's completely fine! You can look ultra stylish in a pair of trousers. But for the sake of this particular lesson I'm suggesting a dress as it's the easiest, most versatile option.
First focus on length. The safest most versatile length is anywhere between knee length (or not much higher than the knee) and midi length (between the knee and ankle). Too short can look too casual or inappropriate and too long lends to a more formal look. The knee to midi length can work for almost any event as it's covering enough to appear modest, yet isn't overly formal or dramatic.
Next look to the fabric, both type, and color and print. Weather will be a consideration so of course give it a thought, but in general try to choose a mid-weight and simple fabric. Velvet, lace, or silk, while lovely can appear too fancy and something like denim too casual. A well made jersey or cotton is a safe bet. It can work for a cocktail party or a barbecue depending on how you style it.
When it comes to color and print go for something neutral, but not black (I know, shocking!) While a little black dress is still a lifesaver, if you're looking for an outfit that can work for any occasion opt for a different color. I suggest something safe and subtle and not too bright or pastel. Think navy, burgundy, a deep green, or grey. A solid or subtlety patterned print in these colors will work for any season or occasion. An exception can be made for black if it's a print with another color thrown in to lighten it up. The reason I suggest avoiding solid black is it can end up looking a little formal and in the quest for finding an outfit that works for every occasion this can be less versatile.
When it comes to the dress the whole point is to find something that fits well, looks flattering, yet is a bit plain. It's more of a background piece that will come alive when you add accessories. Which brings us to our next step, accessories…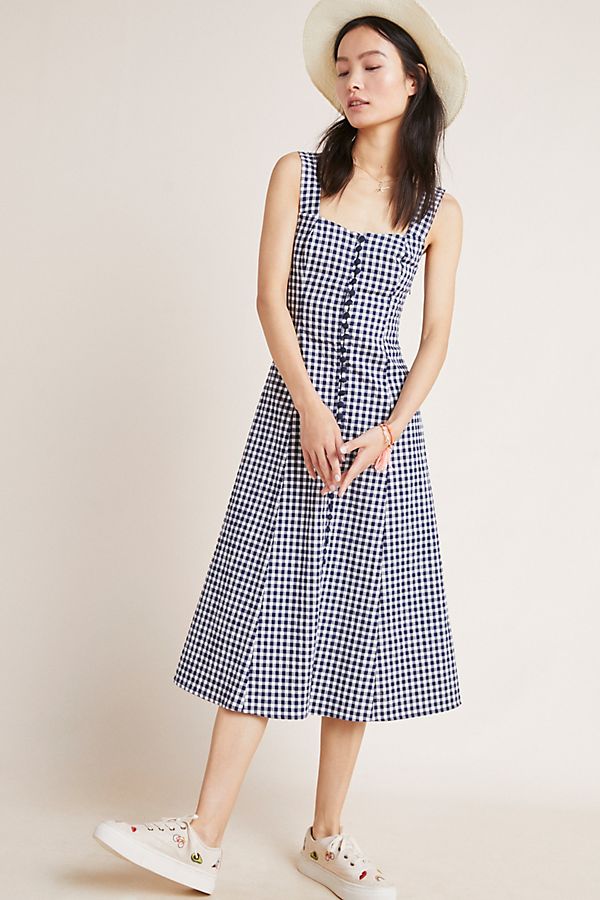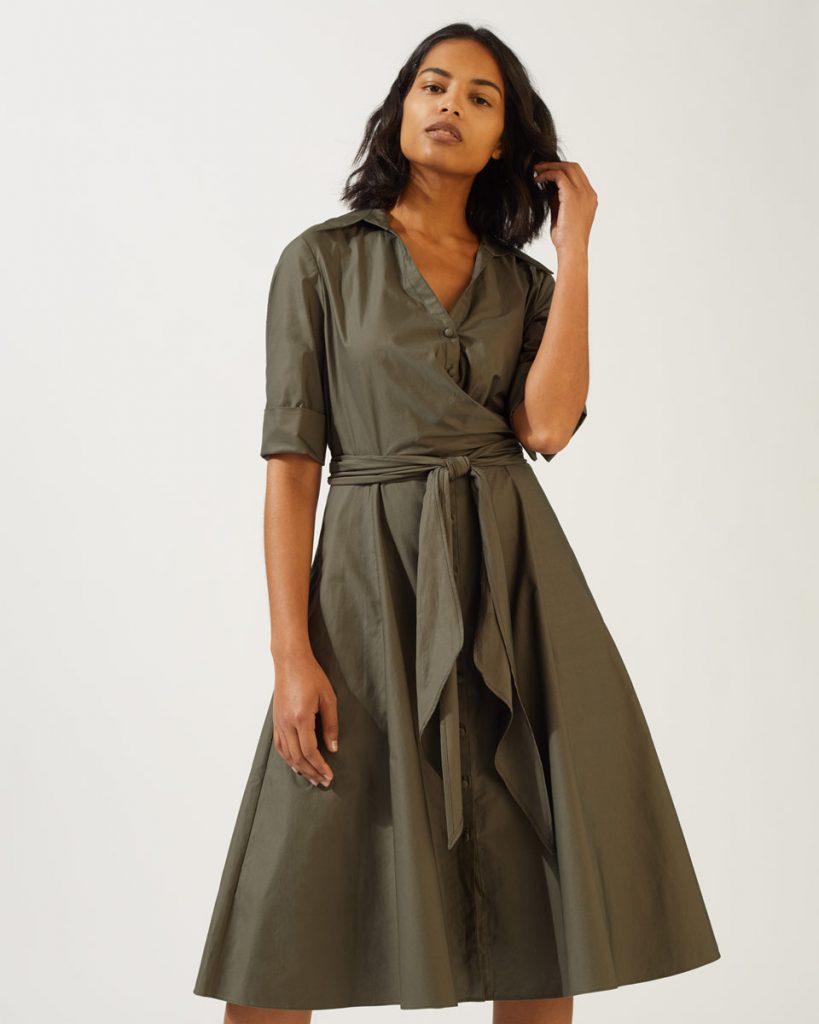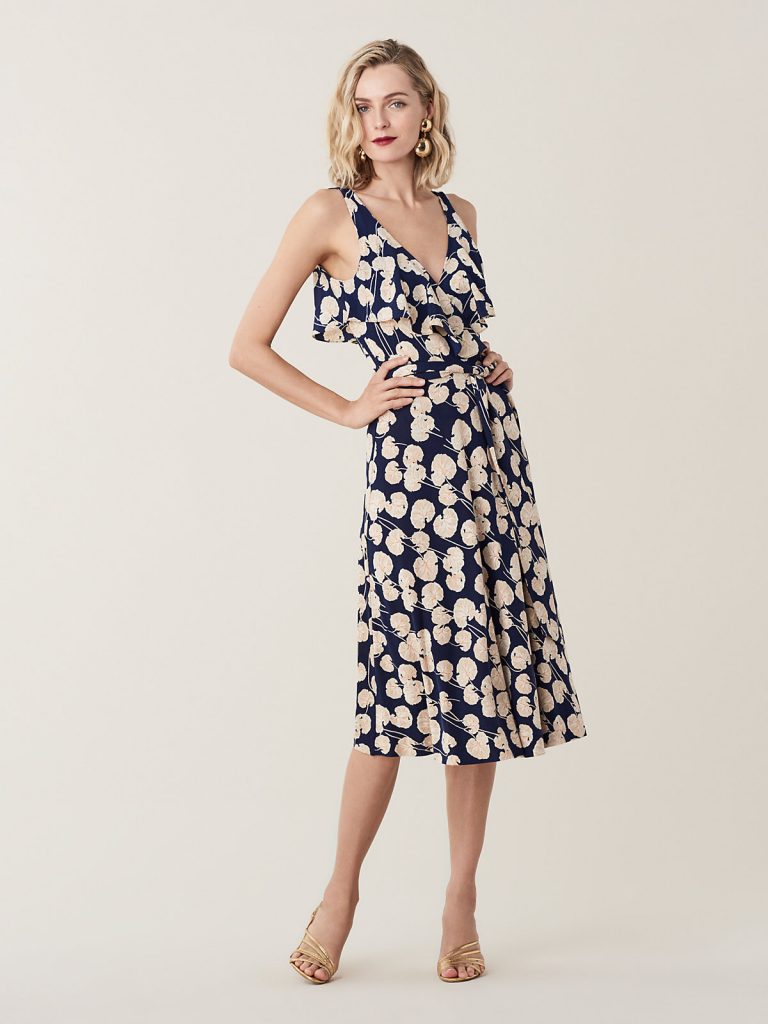 The accessories is what will make the difference between dinner party and picnic. If you think it's on the fancier end go for a pair of low to mid heels. This dresses it up without running the risk of looking over the top. Sky high stilettos will immediately scream I'm dressed to impress while a lower heel will show you belong, but doesn't run the risk of being overdressed.
Of course if you know it's more formal, feel free to pull out some truly high heels to dress it up, just be sure they're not overly flashy.
If you think it's on the less formal side, then pop on a pair of cute ballerina flats, espadrilles or sandals. Just make sure they're good quality and while typically I would say no sneakers, I'm coming around. If you're positive it's quite a casual gathering then feel free to wear some as long as they're clean and not ultra athletic. With shoes it's about playing the middle ground.
Jewellery is another factor that can swing the same dress from casual too formal and vice versa. If you're unsure, pop two pair of earrings in your purse. Some smaller more subtle studs and a pair of statement earrings. That way you can take a quick glance at what others are wearing and slip on whichever earrings are more appropriate. You can also add or a remove a bracelet or necklace to dress up or down the look.
For a purse, take a medium to small bag. Luckily small bags are in style at the moment because they look appropriate for formal events, but are still in style for a casual one.
Please remember, I'm all for style and self expression so feel free to go out of the box, experiment and have fun with fashion if that's your wish! This lesson was about knowing how to look stylish while playing it safe and ensuring you won't feel out of place. So for the times when it's not about making a fashion statement, but simply about looking and feeling good I hope this helped you out.
HOMEWORK: Go through your wardrobe and see if you can rummage up an outfit like we just discussed. That way you have it ready and waiting should an occasion arise. If you don't have anything that fits the bill, well… excuse to go shopping!

Photo Courtesy: anthropology.com; jigsaw-online.com