In today's modern day we may think thank you notes are unnecessary when we can simply call, email, or Skype our gratitude but nothing replaces the thought and warm physical presence of a thank you note. It's never an  unwanted or unappraciated gesture. It's a small gesture but will leave a lasting impression on the receiver. So take these tips as a source of inspiration to write your thank you notes when the occasion arises.
Occasions
The general rule is that it's never wrong to send a thank you note. The only occasions where it's completely unnecessary is thanking someone for their thank you note, hate mail or gifts from your stalker. If you receive a gift or kind gesture of any kind it's always appropriate although in some instances it's not as necessary as others. Here is a list of occasions where it's warranted.
Gifts or notes. (birthday, wedding, engagement, shower, congratulatory, get well, condolences )*If it's simply a card with no money, check etc. inside then a quick call or email of thanks is enough. If it's a handwritten note of condolences, get well or something highly personal it is appropriate to send a note. 
After a job interview
After a dinner party (even if the food was dreadful)
After a stay at someone's home (not a gentlemen someone)
After invite to a ticketed event (i.e. ballet, concert, baseball game)
After a kind gesture/service (i.e. helps with moving, yard-work, recommendation, offering to watch children, volunteer work, unpaid interns)
Timing
Typically you'll want to send your thank you notes as soon as possible. The only times where you can send one too soon is immediately following an interview or event (like within a few hours). You don't want them to receive the note the same exact day. You want to show you've reflected on the kindness extended and your appreciation will seem more genuine. My general rule is that I don't like to wait longer than a week before sending it off or I have a tendency to forget. If you're dealing with mass thank you notes for a wedding, shower etc. then you have up to 3 months. Of course late is better than never unless it's been over a year and then it's just sad.
Message
What to say? What to say? You can keep it short and sweet but it is nice to add some details particularly when giving thanks for a gift. You'll want to describe your reasons for loving it and how you will make use of the gift. Be genuine and try to convey your actual feelings of gratitude. Don't become too intimated about what to say though, it's better to write a simple thanks than nothing at all. Here is a 7 STEP SAMPLE TEMPLATE to give you some guidance.
Dear Charlotte, (use first names for family and friends, everyone else you can use courtesy titles, Mr. Grey, Dr. Watson; if large family write Dear Watson family)
Thank you so much for the elegant vase. (name the gift or service they provided and be descriptive; if cash say thank you for the generous gift, don't say thank you for the money).
We have some beautiful lilies in it right now. (describe how/when/where you will use the gift)
We are truly lucky to have celebrated our engagement with a friend like you. (say how/why you appreciate them)
Thanks again and we look forward to seeing you at the wedding! (close with another thanks and warm sentiment)
Kind Regards, (alternatives: sincerely, lots of love, thanks again, best wishes, see you soon)
Helen and Robert (can sign first name for friends and family, for everyone else include your last name; if couple woman's name comes first unless using Mr. and Mrs.; if whole family start with father's name, mother's followed by children in chronological age oldest to youngest)
Note* On envelope always use full titles. Doctor, New York, Mr., Mrs.
Stationary
You'll want to choose stationary that's classic, stylish and of quality. I prefer a blank space inside so it's simply my personal message and on the outside there can be a lovely embossed or engraved "Thank You." You may also consider ordering your own personalized stationary.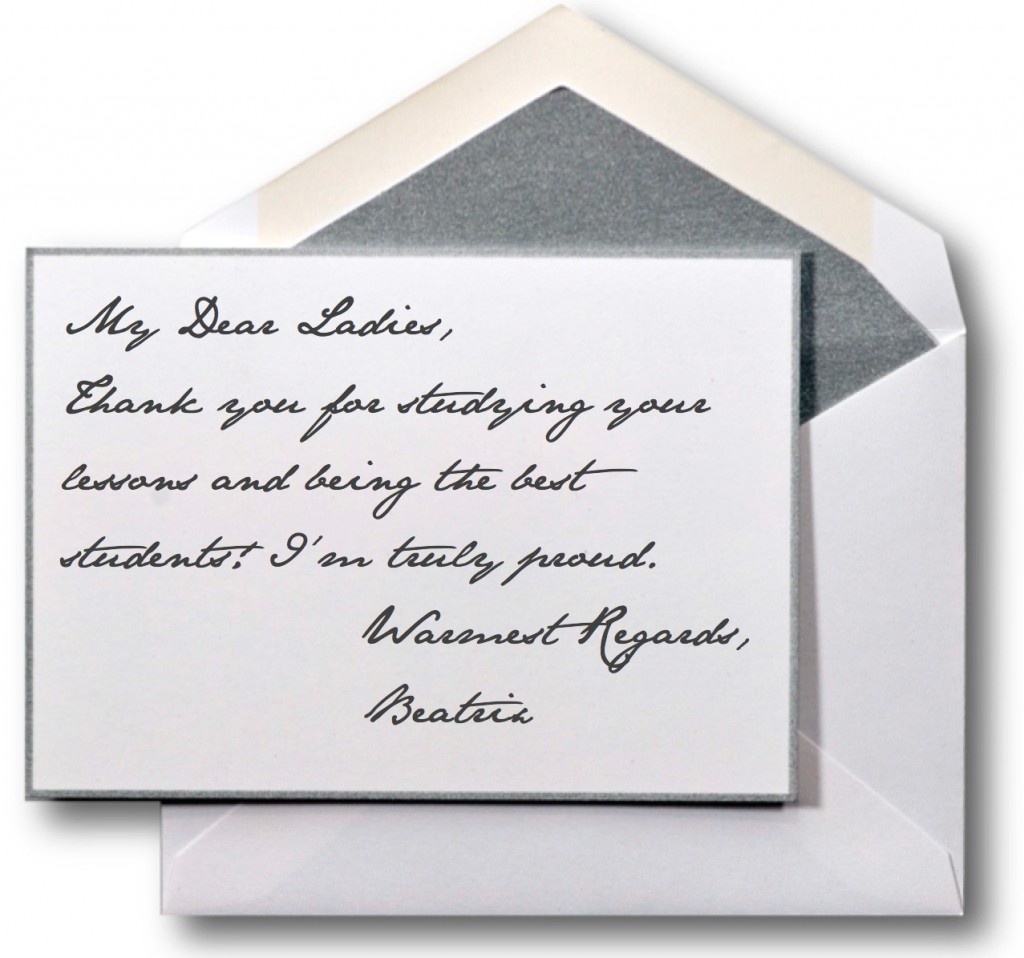 HOMEWORK: Run out and get some proper stationary and stamps so you're prepared the next time you need to send a note.


Photo Courtesy: sugarpaper.com