I adore interior design and few things can be more uplifting than remodeling a room. However home redecoration can be a long and tedious process. You don't always have the time or budget to carry out a complete makeover so here are 3 simple steps I take when I want a new elegant look.
1. Throw Pillows
Pillows are such an easy and budget friendly way to totally transform a room. They're an opportunity to bring in new colors, patterns and textures. It depends on the look you're going for but don't be afraid to mix and match. Mix a few different colors or if you want to keep a monochromatic look play around with various fabrics and textures.
You don't have to spend a fortune but by investing in a few quality pillows you instantly add a touch of luxury. Think silks, brocades, embroideries, unique trimmings and faux furs.
2. Curtains/Drapes
Curtains are a dramatic way to give an elegant touch. They help frame a room and give bold accentuating lines or provide softness depending on the material and style you choose.
Consider silks or velvets for more formal spaces and crisp cottons or breezy linens for more casual. When selecting fabric take into account the color and patterns of the room's furnishings but don't be afraid to push the envelope a little. This is an opportunity to create a whole new look by adding a pop of color or new texture.
It depends on the space and window frame but I like to install the curtains as close to the ceiling as possible extending all the way to the floor or right above the floor giving the effect of a taller room. I adore using tie backs to create a soft sweeping affect.
Remember curtains and drapes are not only perfect for living or dining rooms but can enhance bathrooms and even be used as room dividers. Now it can be an investment as certain fabrics will run a high bill but they're a relatively easy addition and will take a room from stale to elegant.
  
 3. Wall Art
Artwork can make or break a space. It can completely shift the energy of a room and can help make a grand statement. It doesn't have to be a wildly expensive piece but it should have meaning to you. Whether it's a photo, painting or illustration, art is such a personal thing.
You can choose one outstanding piece to display or create a full gallery wall composed of various pieces. Framing is an important aspect. You may not envision a particular piece in your home but with the correct frame it could be perfect. Feel free to mix and match frames if hanging multiple artworks. You can create so much interest this way.
Wall art is not only a way to enhance a room but an opportunity to showcase your interests and personality. It can make a room truly yours.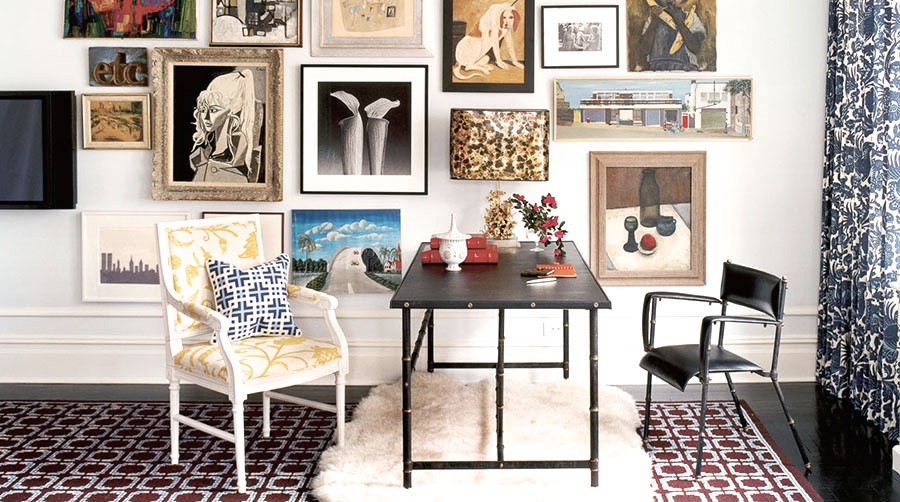 Try to coordinate these 3 steps so they all work together and play off of one another. Consider the colors and fabrics you choose and the overall style you're looking to create. Combining these steps together will form the most elegant of rooms yet even one of these updates can make a lasting difference.
HOMEWORK: Is there a room in your home that's crying for a makeover? Using these 3 steps envision what you could change, now do it. Even if it's as simple as buying one fabulous new pillow. Happy decorating!

Photo Courtesy: jean-louis-deniot, fabricut.com, dustjacket-attic.com, jonathan adler