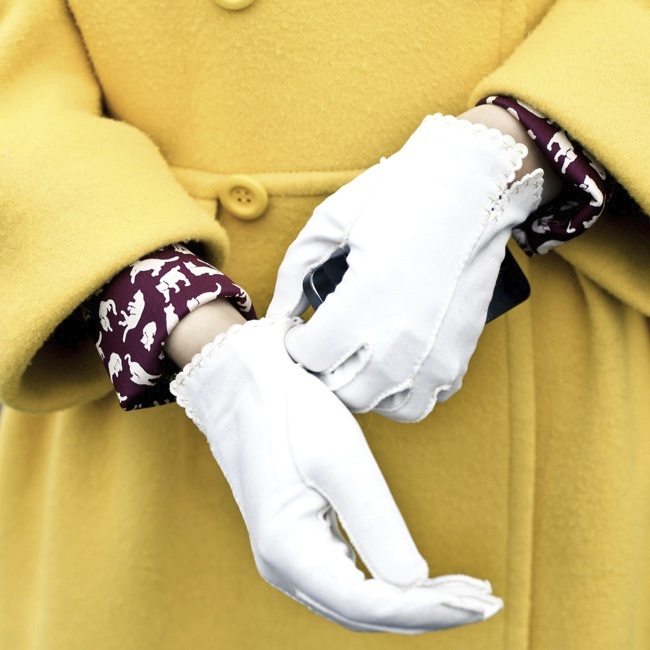 Don't fear the glove. Many still think of it as an old fashioned or vintage accessory but you can wear it in such modern ways. Ladylike gloves will set you apart from the crowd. They will refine and polish your style and if worn correctly will give a fresh look to your wardrobe.
Although you may consider gloves for purely cooler seasons try testing them out in warmer weather. Think long summer drives with a pair of chic gloves gripping the wheel à la Grace Kelly. Or sweet lace gloves paired with a light cotton summer dress. Gloves can be worn for all seasons and all occasions, from traditional elbow length for evening to stylish motorcycle gloves with jeans and a wool coat.
By really accessorizing with gloves (not just for winter wear) you will need to know some basic glove etiquette. Found from a 1950's glove etiquette brochure, I've selected some tips that are still relevant to today's glove wearers.
 Glove Etiquette:
 When a Lady Removes Her Gloves
Gloves must always be removed before eating, drinking, smoking, playing cards or putting on makeup.
When lunching in a restaurant, a lady removes her coat but keeps on her gloves, removing them when seated at the table.
At dances, long gloves are part of a lady's ensemble and as such, kept on. The glove fingers should be tucked into the opening at the wrist while smoking or drinking, and the gloves removed entirely immediately upon sitting at the table.
When removing gloves at a table, keep the gloves on your lap, under your napkin.
When gloves are worn merely as a covering for the hands (such as heavy winter gloves), they should be removed with the coat.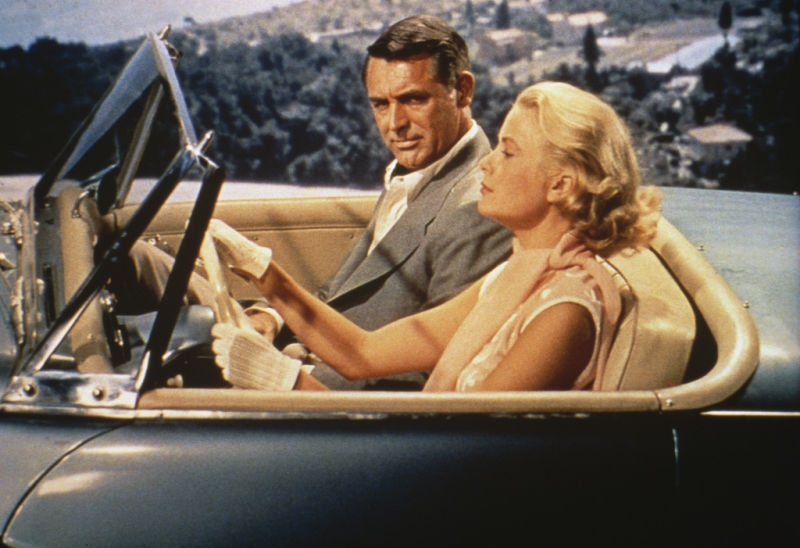 What to do When Shaking Hands
A lady never takes off her gloves to shake hands … and never asks that her glove be excused unless shaking hands with the head of church or state.
 Color, Style and Length
The most important point in choosing gloves is to make sure they fit and are comfortable. Gloves that are too tight tend to make hands look like sausages.
White or beige gloves are equally appropriate for any costume with which colors will harmonize. Black gloves are always smart. Formal occasions do not demand, but somehow suggest, white gloves. Colored gloves are becoming increasingly popular and are now worn, quite correctly, to weddings. It is considered very smart to wear matching gloves and millinery.
A glove of the same color as the sleeve of your garment makes the arm look longer. A contrasting glove seems to shorten it.
The length of the glove is decided by current fashion and the length of the sleeve.
Shortie gloves to 8-button length are normally worn on the street, in the daytime and for informal evenings. Long gloves are usually reserved for more formal occasions.
The style of glove is dictated by fashion and the style of the lady's outfit. Simple styles usually accessorize tailored ensembles, while dressy, decorated gloves accompany more formal clothes.
Bracelets may be work over long gloves, but never rings. 
Smart women usually wear gloves while travelling on a train or plane … or in any public conveyance.
-1950's glove etiquette brochure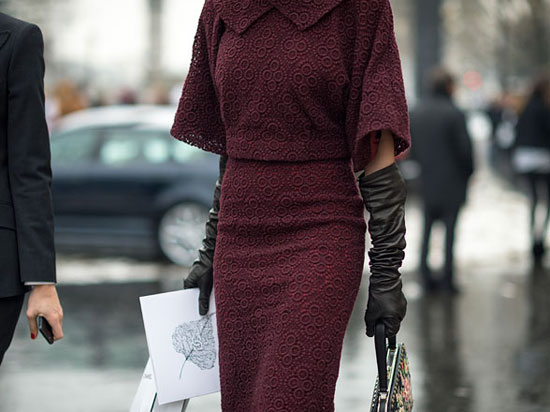 HOMEWORK: What style of glove is your favorite? Share in the comments below. I think elbow length leather is beyond glamorous!


 Photo Courtesy: wmagazine.com, Vogue